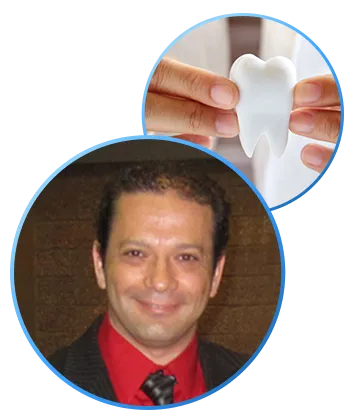 Dr. James Ojjeh is Rated as one of the top 10 dentists
in the United States.
Education
Dr. Ojjeh received his Bachelor of Science degree in Dental Lab Technology from Louisiana State University's School of Dentistry in 1999. He received his Doctor of Dental Medicine degree from the University of Pittsburgh School of Dental Medicine in 2004.
Experience You Can Trust
Dr. Ojjeh's career in dentistry began long before he started dental school. Prior to becoming a dentist and during dental school, he worked as a dental lab technician. Through this, he gained firsthand knowledge of the artistic component of dentistry. As a certified dental lab technician, he mastered the art of making crowns, bridges, partial dentures, implants, and many other prosthetic components that help restore patients' oral health and enhance their smile. Dr. Ojjeh's many years of commitment to the dental profession are a testament to his passion and dedication to his patients' oral health care.
Friendly and Compassionate
Dr. Ojjeh has an excellent chairside manner and takes a friendly, caring, and compassionate approach with all his patients. He understands that many people are afraid to come to the dentist. Spending time with his patients to address their fears and concerns in order to make them feel at ease is one of his top priority. Dr. Ojjeh is also very thorough in the way he examines and educates his patients about the importance of their oral health and their dental needs. He is a strong advocate of preventative treatment.
Awards
Dr. Ojjeh is an award-winning dentist due to his outstanding professionalisms, care and positive feedback from his patients. He has been awarded:
Best Cosmetic Dentist by the Naperville Award Program in 2013, 2014, and 2015, 2016.
Patient's Choice Award from 2012,2013,2014,2015,2016,2017, 2018.
Patients' Choice 5TH Anniversary Award 2016,2017,2018.
Expert Network Award:
Dr. Ojjeh has been recognized as a Distinguished Dentist by the Expert Network . The Distinguished Dentist Designation from the Expert Network is only conferred upon the Top 3% of dentists in the U.S.